*V* Server
Mar 1, 2017
Posted by: Fl4k
Testing pmove_accurate 0
On wednesday the 1.03 server will be set with pmove_accurate 0 for testing purpose.
Its highly recommended that you set your com_maxfps value to 125, higher fps will have now a bad influence to your movement in gameplay.
The idea behind this, is to find out if it has a positive impact to server sync when a high amount of (better all) players use same fps value...
So please participate with us and set your com_maxfps 125.
Feb 2, 2017
Posted by: YeLLoW
Everything you need for your q3
Heya fellas,
Our mate Shtayga did the hard work for you, googled a word "quake3" and downloaded the whole internet to his blog site :). All is nice organized and you can find many good things there.
So if you wanna try new maps, mods or skins don't hesitate to check it out.
Jan 28, 2017
Posted by: Fl4k
New map addition and server record :)
Hey Quakers! I have rewritten the fun map vote list a bit... with it wanna announce another new map which is also played on quake live, so be sure that you´re prepared. You can download it above from Downloads, directly from server using /cl_alowdownload 1 or this link here Trespass
Also i wanted to thank you all for faith in V, we broke the 21 players record :) You guys rock!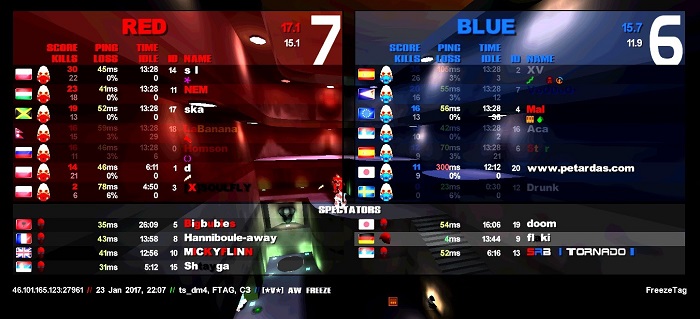 Jan 13, 2017
Posted by: Fl4k
New map
Hey fraggers! I've found this nice looking map named Kepple Bay! So for a bit fresh wind i've added it in the fun map list, hope you dig it!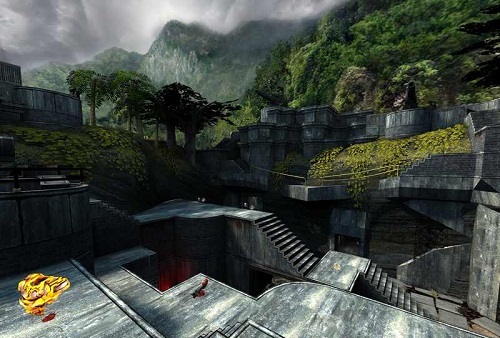 Dec 10, 2016
Posted by: Fl4k
Ho Ho Ho
V wishes you all a Merry Christmas and Happy New Year, may all your wishes come true in 2017...As a little gift from V santa i set a special map for you, it will be in the voting list soon.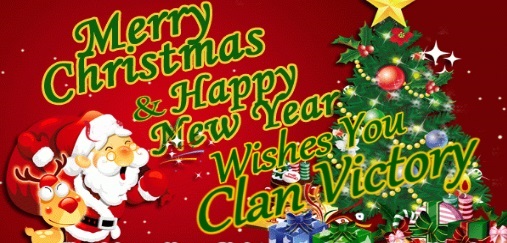 Map looks best with..
r_vertexlight 0
r_mapoverbrightbits 2
r_intensity 1.3
r_picmip 0
Wintersedge is now updated, so pls erease the old one and replace it with the actual pk3.
I recommend you to set permanently seta cl_allowdownload "1" in your cfg, this will provide that you wont miss any files in the future. Anyway ive updated also the link on download section.
To hear the music set seta s_ambient "1" and seta xp_ambient "1" into your cfg, else you will miss the funny atmosphere on this map.
I fixed the sky shader, so no crash anymore.
Dec 5, 2016
Posted by: Fl4k
Something about camp
hey fragers,
so lately there were some controversy on server about things like camping, so i thought i will lose some words about that. read here
Nov 24, 2016
Posted by: YeLLoW
Please use port 27961 from now
After recent server's ping issues i changed the port to 27961, same as like it was with V1 long time ago. Not sure why but the in-game ping decreased from 50 to 25 in my case. I have also enabled 5min interval bidirectional traceroute logging from and to server to see how the ping fluctuates over time during the day. In case of any further issue i can use these logs to provide them to digitalocean so they can better check where the issue lies. Hopefully the issue is solved. Time will show.
PS: if you notice any ping issue please write down the date/time of the issue so i can find it in logs quicker.
Nov 21, 2016
Posted by: YeLLoW
Do you feel empty? :)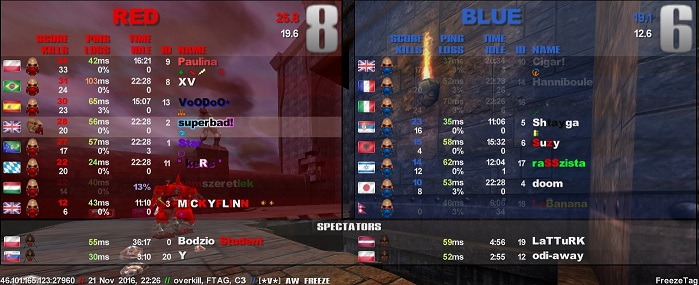 20 players online. I guess this is new server's record.
Like us, Share us
Guest Book
Chat on server